Effective supervision has multiple benefits for both the supervisee and supervisor.
It can also have significant benefits for the wider service and service users.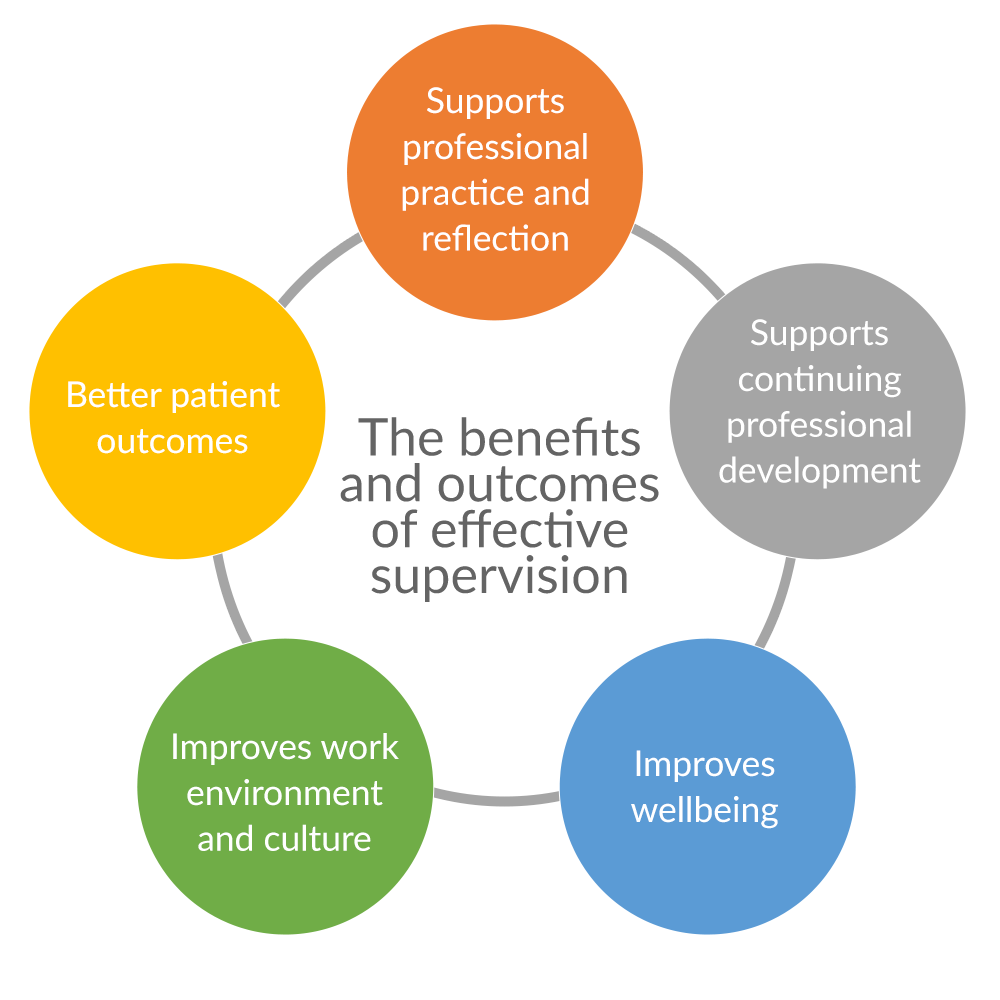 Below are some examples of the benefits that supervision can have for your professional practice. Click on each of the sections for more information.
Click on each section below for more information
As a professional, it's important that you continually reflect on your practise to help you gain insight into and think analytically about your work. This can be achieved by reflecting on a positive outcome, or by focusing on a challenging situation.

While supervision is not a substitute for reflection, it can support this process by providing you with important time and space to reflect on your work to identify things that have gone well, or not so well, and areas that you could potentially improve on.

Supervision can therefore help you develop insight and help maintain and refine your good practice. It can help you learn from mistakes, put things right and avoid repeating them again in the future, which can in turn help increase your confidence and lead to improvements in service provision.

Further information about reflecting on your practise, and how to do this effectively, can be found on our website here.

Keeping your knowledge and skills up to date and relevant to your scope of practice is crucial to ensure you continue practising safely and effectively. It is also an important part of meeting our Standards of conduct, performance and ethics.

Supervision supports your CPD by helping to identify and respond to any learning gaps you might have, which will help ensure that your skills and knowledge are up to date.

Supervision can also have a positive impact on your career progression by helping you to:

identify professional development opportunities;
improve confidence and critical thinking;
seek support and feedback from colleagues; and
monitor your development.

The notes that you take as part of your supervision can be used as evidence of your CPD at your renewal.

If you do decide to include supervision in within your CPD profile, you should therefore keep a detailed and accurate record of your supervision activities, including detail of what was discussed with your supervisor and how this has informed your practise going forward. You can find more information about our expectations and requirements for registration renewal on our CPD webpages here.

Supervision can have a positive impact on service users by safeguarding and raising practise standards. Regular supervision can help you to reflect on challenging areas of your work, which can help you to:

Identify issues early on, and discuss actions to resolve these;
seek advice; and
talk through solutions in a proactive and timely way.

Supervision can also help to improve communication, collaboration and teamworking, which all contribute towards increased quality of care and service outcomes.

Work in health and social care can be challenging, and it's important that you look after your own health and wellbeing.

Regular supervision can provide a supportive environment enabling you to reflect on your practice and discuss any concerns, which can help alleviate workplace pressures such as stress, anxiety and burnout. It can also help improve confidence and job satisfaction, by reflecting on achievements and affirming areas of positive practice.

If you are experiencing difficulty at work, more information about how to manage stress and what resources are available can be found on our health and wellbeing pages here.

Positive working environments are crucial for safe and effective care, and for driving service improvements.

Supervision can help create a more supportive, caring and positive working environment, as it provides a space for regular communication, problem solving, and increased team working. When carried out regularly, it can help to build working relationships and create a culture of honesty, critical appraisal and learning across the organisation.
Take a look at the video below to hear about the benefits supervision has had for some of our registrants.
Page updated on: 27/09/2021