Each profession renews at a set time and have three months to submit a renewal
Before the renewal window opens
It is vital that your correspondence address and contact details are up to date with us; otherwise you could miss your initial invitation to renew your registration.
During the renewal cycle
You have three months to renew your registration, by both signing a professional declaration and making a payment. Renewing online is quick and easy.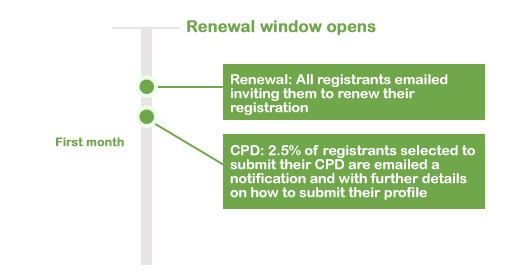 Before you can use the system, you first need to activate your account.
At the start of the renewal window you will receive correspondence from us within 24 hours of the renewal period opening, please do not attempt to renew before receiving this invitation. If you do not receive any correspondence from us after this period please contact the Registration department.
If you do not wish to maintain your registration after the window closes, you can log into the online system and make a voluntary de-register request to let us know that you do not intend to renew.
Once the payment has been cleared then you will receive confirmation via email to confirm that you have renewed your registration for the next two cycle.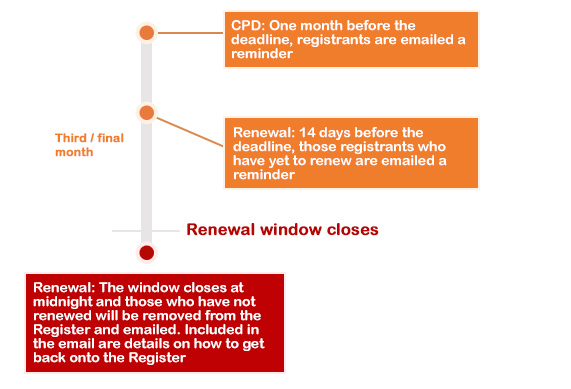 To check that you have successfully renewed your registration you can either log in to your online account and check the main homepage of the area, or alternatively, you can check the online register. The Online Register is immediately updated to show your new registration dates once renewed.
The Register is in real-time and is the best way for you or your employer to verify your registration status.
Note that paying the amount in full via credit/debit card can take up to 24 hours to be added to your account. So keep an eye on your email for the confirmation email to come through. For Direct Debit payment options, you will get a confirmation of renewal 'awaiting payment' email after submitting. You will then get a further confirmation of renewal email once the payment has been collected.
If you still have not renewed by the final month of the window, we will take additional steps and email you a reminder to make sure that you are aware of the process and deadline. It is vital that your email address is up-to-date on our records.
Once the renewal window closes
If you fail to renew your registration by the end of the renewal window, then your name will be automatically removed from the register and you will be unable to practice using the protected title.
To return to the register you will need to complete a readmission form.
Still have a question about renewing?
For more information or clarification about renewing your registration, please contact our Registration team:
Page updated on: 05/07/2018