Step-by-step guidance on how to activate your account
This is a one off process for those who have not yet logged into their online account.
We know that a small group of registrants may experience problems accessing our online system whilst using their work device. If after following the step-by-step guidance below you continue to experience difficulties, we would suggest using a different device and on a different network, such as your home or mobile data from your smartphone or tablet.

Step 1 - Enter details on activation page
To activate your online account, go to hcpc-uk.org/activate, enter your registration number and email address. The email must be the one that we hold for you on our system.
Please make sure you can receive emails from us in this account, as this is where your temporary password will be sent. You may need to add our automated email address, noreplyregistration@hcpc-uk.org, into your safe senders list to ensure this.
Tick the confirmation checkbox and click 'Activate' to continue. Or, if your email address isn't recognised, click 'Change email and activate' to change your email address.
How to use the 'Change email and activate' button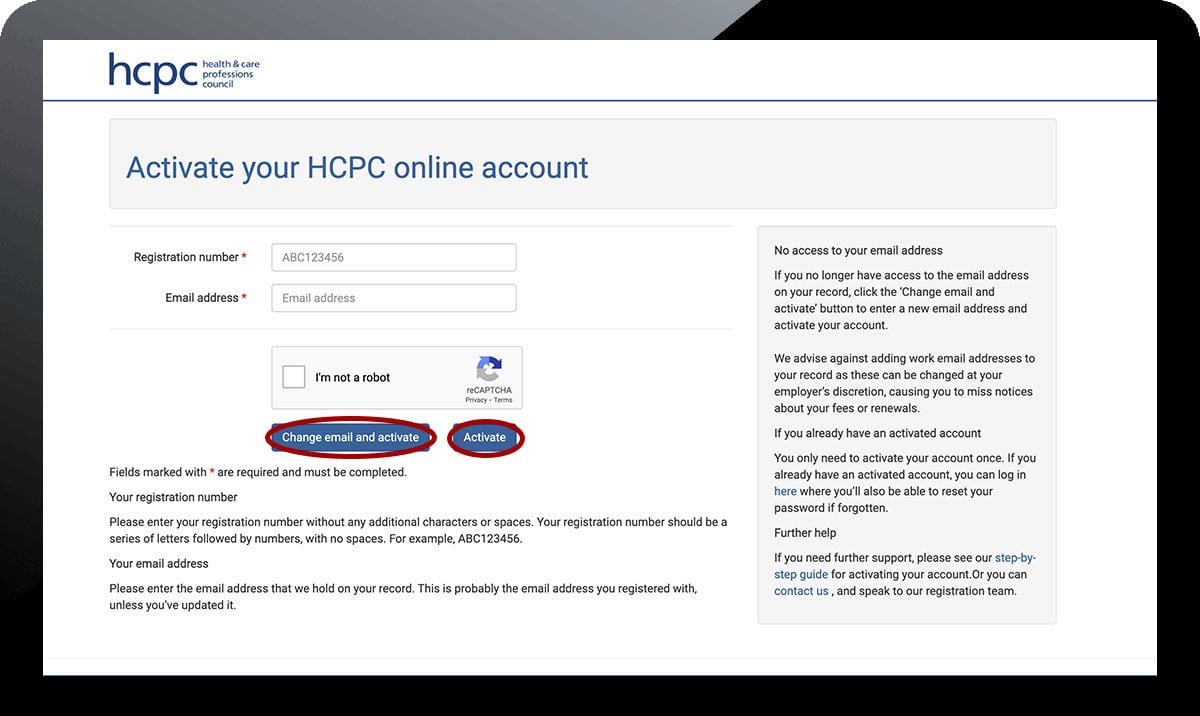 Cannot proceed past this stage?
Please ensure your registration number is entered correctly. Registration numbers start with letters followed by a series numbers with no spaces. For example: ABC01234

Ensure the email address is the same one that you have provided to us previously. You can try again this step again if you have more than one email address you may have used.

If you received a message that the email address is 'already in use' or 'activated', you can either:

1. Click 'Change email and activate' to activate using a new email address - this will take you to a new page on which you'll be asked to verify your identity using personal data

2. Visit the system login page and use the password you have created, use the temporary password if you have been sent one or reset your password by clicking 'Cant access your account'


Step 2 - Log in and set up your account
Log in to your email account and open your invitation email and follow the instructions.


Click on the link to create account, enter email address and initial/temporary password and click 'Sign in'.



Link in email not working? If you experience a problem when you click the link in the activation email we sent, you can alternatively access this page via our homepage and click on the 'My account' link in the top-right hand side of the page. From here you can then enter your email address and the temporary password we provided.
Update your password when prompted.


Enter a verification code to verify your account – you can either have a code sent via SMS to your phone or a phone call authentication. If you opt for phone call authentication, you will receive an automated call and will be asked to press the pound key (# key) to verify your account.



Please note that you will only be able to enter your telephone number once and this number will be used every time you log in to your account. Therefore please ensure it is a number you have continuous access to. You telephone number for verification can only be changed by phoning the Registration Department.



Once your account has been successfully verified, you will be logged in and presented with Terms and Conditions. Please read these and if you accept to the terms, then click the checkbox and then click 'Accept'.



Please note that if you experience problems when you accept the Terms and Conditions, then navigate back to the homepage and click on the 'My account' link in the top-right hand side of the page to continue the process.
Once the Terms and Conditions have been agreed and accepted you are then logged in to the system. You will see the dashboard as shown in the following image where you will be asked to confirm your contact details.




Once confirmed you will then be presented with the dashboard. From here you will be able to renew your registration, update your personal details as well as change your payment method for your renewal fees including adding a new direct debit instruction.


Activate your account now to use the sytem
Page updated on: 11/05/2022