Srikesavan Sabapathy is a HCPC-registered physiotherapist with over 25 years' experience. He is now Clinical Lead Therapist at NHS Gloucestershire's Integrated Care Board.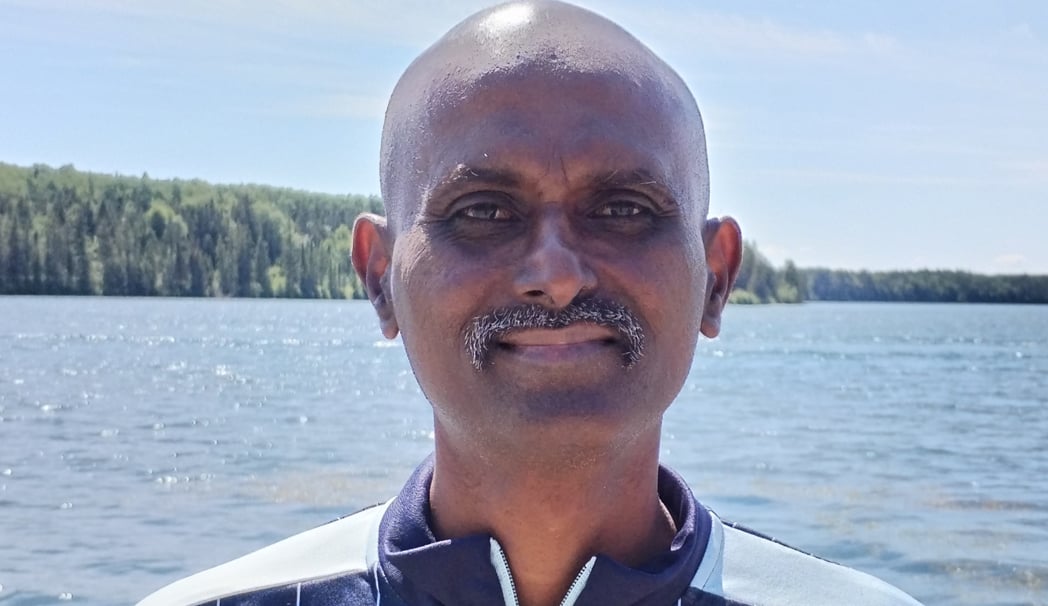 To mark South Asian Heritage Month 2023, Sri shares his story.
What does my South Asian heritage mean to me? I would say everything, because there is not a single day that I don't remember who I am and where I come from and draw inspiration from the experiences of my parents and grandparents.
My grandfather left Tamil Nadu, in the southern part of India, to work in the tea estates of Sri Lanka. I was born in Sri Lanka and moved to India when I was 12. My earliest memories of visiting the tin-roofed shed in the tea estate where my grandfather lived, and where my father grew up, were pleasant memories of running around the tea bushes and picking the leaves, along with my grandmother. I am sure it was a life of struggle in poor living conditions, but they worked very hard to provide a better life for the next generations.
I continued my schooling in India and eventually entered a physiotherapy programme. During the early 90s, which professional course one entered was decided based on the marks one scored in 12th grade and the entrance exam. There was not much choice in the programme we entered. I got physiotherapy in a government college, and the very nominal tuition fees at this place were a deal-breaker for me. I joined.
I have loved the profession since then. Over the next 25 years, I gained experience in teaching, academic administration, research and clinical work in India, Canada and now the UK. I registered with the HCPC as a physiotherapist in March 2016 and joined the UK workforce in June 2016. My motivation to work and volunteer in physiotherapy is based on a sense of gratitude to this wonderful profession which has provided so much to me and my family.
I started off as a trauma inpatient physiotherapist at the John Radcliffe Hospital Major trauma wards in Oxford. I currently work as the Clinical Lead Therapist at the NHS Gloucestershire Integrated Care Board. My current responsibility is to work across the Integrated Care System (ICS) to lead and facilitate scoping, analysis and subsequent implementation of improved rehabilitation pathways.
My experience of working in the UK has been very positive so far. This is largely due to the exceptional support I have received from my managers and colleagues. Whenever I have requested support for growth, I have received mentorship and support from compassionate leaders. I also received kind and considerate support in terms of flexible working to fit in a complex social life where I care for my son who has learning disabilities.
The support I have received from the Chartered Society of Physiotherapy has been very important to my leadership journey. This has included formal leadership training and informal mentorship from senior leaders.
The UK health and care workforce has received much-needed support from those with South Asian heritage for a long time. With the current workforce crisis, South Asians have again stepped up to fill up the gaps. We work hard and contribute to the UK economy while trying to build a life for ourselves.
Unfortunately, the experiences of many colleagues with Asian backgrounds have not been as positive as mine, as fitness to practice data from different regulatory bodies has suggested. This is one of the main reasons that I continue to volunteer in roles that allow better support to individuals who have negative experiences.  
There is a lot of work to be done in this area by professional organisations, regulatory bodies and other voluntary groups. The idea of a "sense of belonging" is now being integrated into strategies and documents, but work is also required to bring it into our working lives, which is where it matters most.
There is one word that many of my ancestors held onto during times of struggle, and that is "hope". I hold onto the same word as I continue my journey as a health professional in the UK.
Published:

09/08/2023

Resources

In your words

Audience

Registrants
Page updated on: 08/08/2023