This month within the organisation we have been celebrating black history and sharing resources, information and content on our social platforms and internally.
Celebrating key dates such as Black History Month is important for us as individuals and as an organisation. To share, support, learn, acknowledge and explore moments and people in history is a gift. To many it is more than a month it is a reality and a cherished experience that lives with many of us daily.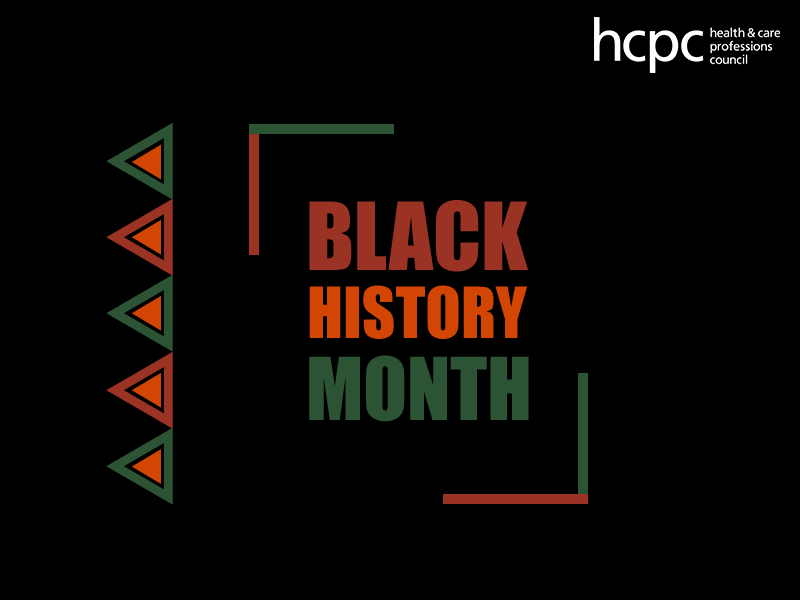 We have shared personal reflections, several stories from key people and moments in time that have influenced or impacted us as individuals such as Oscar Peterson, Bruce Langhorne, Professor Dame Donna Kinnair, Marcus Rashford MBE, Diane Abbott, Walter Tull, William Cuffay, Sidney Portier, Wilberforce House, Queen Amanirenas, Nanny of the Maroons and many more.
On social media and internally we have shared inspirational quotes from key figures including:
Sharing stories in the words of HCPC registrants
We also shared stories from registrants on our website and social media.
Occupational therapist Elizabeth Jolaoso shared her experience as a black woman in her field and gave advice to others from a BAME (Black, Asian and Minority Ethnic) background wanting a career in allied health.
"As I have matured I have become comfortable in my own skin, my abilities and skills and developed a wealth of experience and knowledge, I no longer feel uncomfortable. I know wherever I choose to practice, I am more than enough, I have worked hard and earned my right to be there and most importantly I'm able to deliver a high standard of care.

"If AHP is a profession you would like to consider, I strongly suggest getting experience prior if you can. This will give you some insight. I admit our roles are challenging for many reasons but very rewarding as we are able to make a difference in the lives of vulnerable people."
Occupational therapist Rachel Karanja also shared;
"There is a small number of BAME occupational therapists working in allied health and there needs to be greater awareness of this rewarding profession and career path.
"I would recommend that anyone who wants to go into any allied health profession should research what they really want to qualify in. Have confidence in your abilities and show passion for your work. This will make you love what you do even more. "
Resources shared by HCPC Colleagues during Black History Month
Recommended books by HCPC colleagues included 'Raybearer' by Jordan Ifueko, 'The Grassling' by Elizabeth-Jane Burnett, 'Girl, Woman, Other' by Bernardine Evaristo and 'Boy, Snow, Bird' by Helen Oyeyemi.
'Brit(ish): On Race, Identity and Belonging' by Afua Hirsch, 'Slay In Your Lane: The Black Girl Bible' by Elizabeth Uviebinené and Yomi Adegoke, 'Why I'm No Longer Talking to White People About Race' by Reni Eddo-Lodge, 'Race and Class in the Ruins of Empire' by Akala and several more.
Recommended films by HCPC colleagues included; 'Been So Long' starring Michaela Coel, the period drama 'Belle' directed by Amma Asante, the Emmy-winning and Golden Globe-nominated LQBTQ+ series 'Pose', the fantasy film 'A Wrinkle In Time' directed by Ava DuVernay, starring Oprah Winfrey and Whoopi Goldberg.
The classic romantic drama 'Love & Basketball' starring Sanaa Lathan and Omar Epps and the biographical drama film 'Something the lord made' starring Alan Rickman, Yasiin Bey (Mos Def) and Gabriel Union.
Colleagues also shared recommendations of TV documentaries such as Black and British: A Forgotten History, Black Hollywood: 'They've Gotta Have Us', Black and Proud season on Channel 4, Hair Power: Me and My Afro and Mo Gilligan: Black, British and Funny.
It is impossible to capture in list all the beautiful, entertaining, and enduring art put into the world by and about Black creators, or highlight all the brilliant Black-focused recourses in this blog, but the hope is that people will be encouraged to keep discovering more that is out there to enjoy and support.
The importance of Equality, Diversity and Inclusion
Over the course of the past months we have watched as the stand against racism and discrimination, the black lives matter movement and the inequalities COVID-19 has exposed our society.
Our work on Equality, Diversity and Inclusion (EDI) is a key priority for the organisation including our Council. We have a commitment to being a fair and inclusive regulator. Our EDI action plan sets out our legal duties around EDI and the practical steps that we are taking to implement this policy.
The launch of our EDI forum earlier this year also brought views and the constructive feedback shared by stakeholder colleagues that will support us in the development and delivery of our EDI strategy and longer term plans. As an organisation we will never tolerate racism or discrimination of any kind and will continue to uphold our commitment to EDI.
Making a change for Black History
Colleagues in HCPC have also acknowledged the #EndSars situation in Nigeria and many have shared their discomfort and distress at the situation. We extend our thoughts to registrants, colleagues and partners who have been affected by this and to those that sadly lost their lives. This is an example of another important issue and the positive actions we can take to spread awareness as individuals and affect positive change.
Page updated on: 30/10/2020