The HCPC runs a biennial education provider and visitor survey, which gathers feedback to improve these stakeholders' experience and involvement.
The 2020 survey covers the last two academic years, with the previous survey being conducted in early 2018. Its key findings are below, along with a set of recommendations.
Respondents
Number of respondents
The survey has seen an increase both in the percentage of responses, from eleven per cent to 25 per cent, and the number of responses, from 284 to 303.
Type of respondents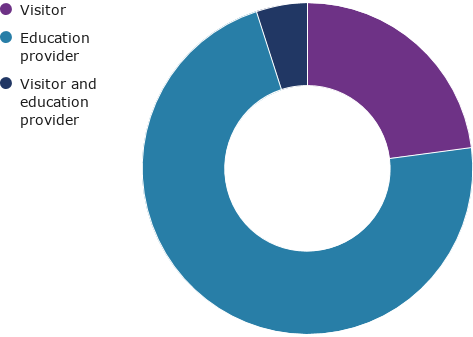 Type of approval and monitoring processes respondents have engaged with in the last two years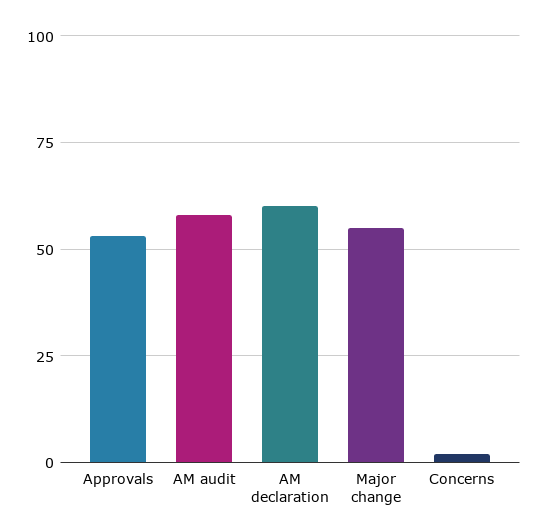 Our performance and processes
We asked education providers about their views of our application of the SETs and how we work. This was a question we asked within our previous survey. When comparing the responses with these results, we can see a downward trend in how the application of the standards is perceived across the professions and how our decision making is considered fair and transparent.
The HCPC standards of education and training (SETs) are designed to be flexible, so that we can apply them to all 15 professions regulated by us. Please tell us as an education provider whether you agree or disagree with the following statements about the way we work.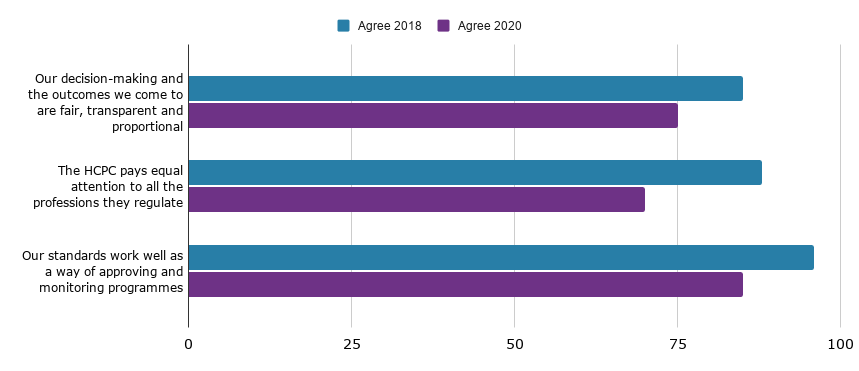 We received comments from education providers regarding this. A quarter of these comments related to a negative experience with our visitors. For example, they considered the visitors to be applying their own personal interpretation of the standards, that the visitors had a particular issue they choose to focus on, or that the standards did not appear to be applied equitably. We have investigated these responses and have not been able to ascertain underlying reasons for these. There would appear to be no obvious no correlation between the subjects raised in the comments and the results received this year.
Two interconnected themes emerged from the visitors comments:
Timelines can be too short when asked to review further documents or a response to conditions; and
There needs to be improved communication regarding requests for work to be completed in shortened timescales.
In order to help with this, we have recently introduced revised timeframes for the production of visitors' reports both internally, and to account for a reasonable period of time for the visitors, while meeting our legal requirements. We will continue to monitor the introduction of these revised timeframes and amend as necessary.
Challenges in reviewing documentation
Visitor responses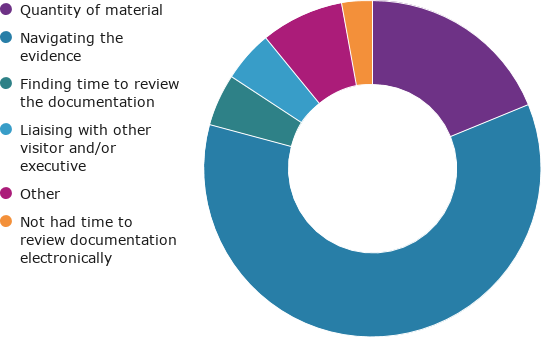 As part of the Education executive role, evidence which has been supplied is reviewed prior to sending to the visitors. If there are serious discrepancies between the details of files we have been given and their actual names, the executive will push back to the education provider for clarification. The member of the education executive is also available throughout the process for the visitors, should they encounter issues finding information.
Over 60 per cent of visitors highlighted navigating the evidence as the most challenging part of reviewing electronic documentation. Some visitors also commented on needing to scan back and forward through several documents at the same time.
This overwhelming feedback may reflect the limitations of current technology, and also people's ability and capability to use it.
Education provider responses
Edication providers considered it mostly easy to put together the evidence for our processes. However, at the same time as this positive feedback, they highlighted the potential positive aspects of using a portal or cloud rather than sending emails with attachments.
Satisfaction with guidance
Visitor feedback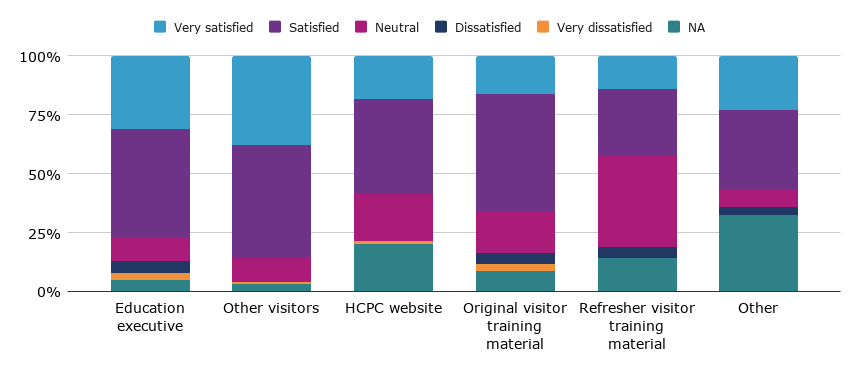 Visitors were primarily satisfied with all the sources of guidance we provide. In particular, visitors were mostly 'very satisfied' or 'satisfied' with the guidance they receive from other visitors (86 per cent) and the Education executive (77 per cent). This is reassuring as it demonstrates the training and development we provide to both groups is appropriate, relevant and timely. To illustrate this, we received comments that the original visitor training material was very useful in illustrating different kinds of evidence which could be used to demonstrate how to meet our standards.
COVID-19 advice for education providers
The pandemic has seen an unprecedented impact on higher education in the UK. As part of a wider HCPC response to it, we provided information for education providers, highlighting relevant issues such as the flexibility about making temporary changes to a programme and when to inform us, and the temporary Register.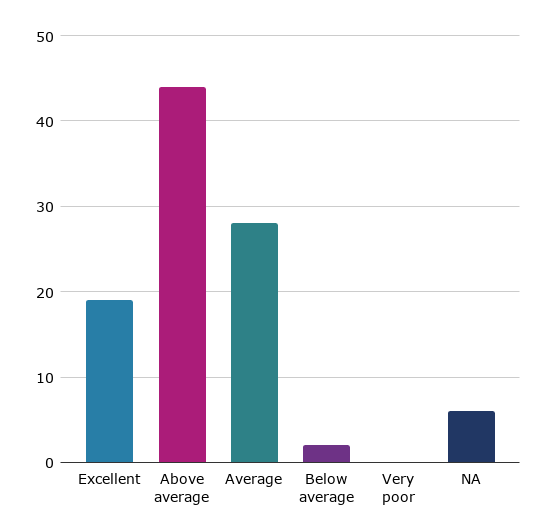 Since lockdown, we have also conducted much of our work online. Visitors regarded both virtual video discussions and other electronic means of discussion to be very effective. However, the praise for video discussions was not unanimous with a visitor commenting that for approval events they feel that a physical visit is preferable to a virtual visit.
Quality assurance - preferred methods of interacting with HCPC

Education provider feedback
Education providers mostly preferred the use of video conferencing when meeting the education executive, and using the website when accessing resources. However, reflecting the feedback from visitors, there was a strong preference for the use of a portal including when accessing resources, submitting data and documents and managing contact details. As outlined earlier, this will be considered as part of the new quality assurance model.
Visitor feedback
To support visitors to understand the new quality assurance model, and how to interact with us in the future, there was a preference for e-learning modules, and a strong response for webinars and regular emails. Although we did not receive many comments related to this question, a substantial proportion stated they missed face to face training and learning with, and from, their peers.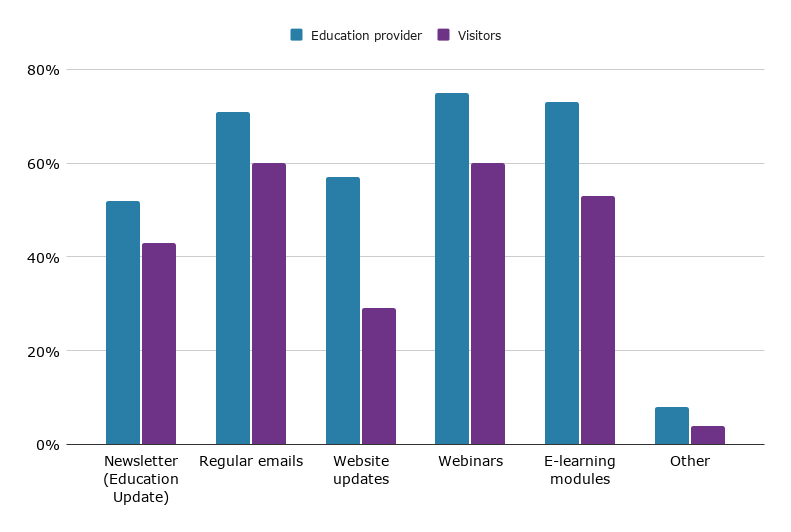 Experience of collaboration with the HCPC Panel
Visitor feedback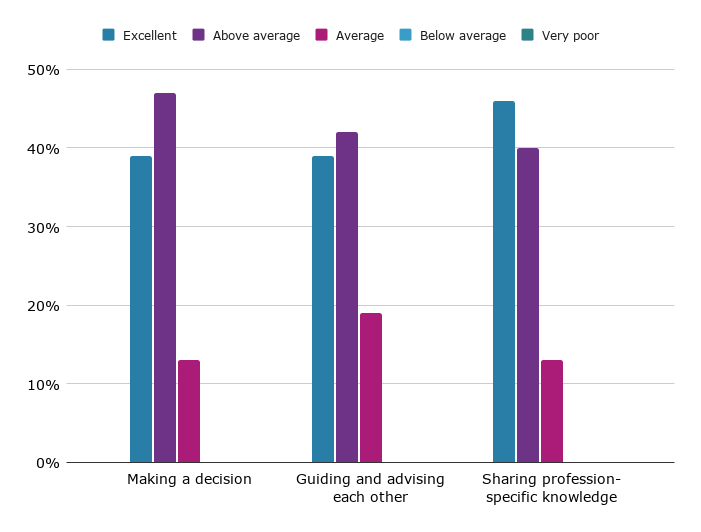 Education provider feedback
In the previous survey, we asked education providers about our ability to work collaboratively. 88 per cent said they were 'extremely satisfied' or 'very' satisfied, meaning we have seen a downward swing in this survey, to a total of 74 per cent.
Although these results are positive, we received a small number of comments from visitors that the support varies according to the executive, and that sometimes there may be a new member of staff who is not always as up to date as others with a piece of work. These comments reflect that when we recruit a new member of the department there is a period when they, and the wider department, needs to ensure they are fully acquainted and confident with the work we do.
A small number commented that we could strengthen the interaction with our processes in terms of collaboration between themselves and the HCPC. For example, we received comments that the link between them and the HCPC does not feel like a collaboration at times but rather a requirement, and the following of a process.
The new quality assurance model is designed to build more of a light-touch and flexible model of quality assurance. This is so that we understand the issues before determining the solution. This will ensure the quality assurance for each provider and programme will be proportionate to the risk identified. This will develop ongoing relationships with specific education providers and introduce risk based decisions about how we review and assess institutions and programmes on a case by case basis. This hopefully will mean our processes are less of a requirement and more collaborative.
Recommendations
The majority of the feedback gathered from visitors and education providers through this survey has been positive. Many of the responses demonstrate that we have a good relationship with our stakeholders, and they understand what we require of them.
However, we did receive comments which offered criticism of how we work. With this in mind, we are making the following recommendations:
Undertake activities to ensure the HCPC panel applies our standards equitably and fairly.
Ensure the appropriate results are considered as part of the pilot of the new quality assurance model. In particular, whether metrics can be developed to monitor our performance against the standards on a more regular basis and the development of an online portal for document submission.
Create mechanisms so we work with education providers to ensure documentary submissions are clear and easy to navigate.
Ensure communications with visitors consider the timelines involved and the wider context of building and maintaining a collegiate working relationship.
This includes monitoring the introduction of the revised timeframes to produce the visitors' report, to ensure they are working well for all parties involved.
Consider how best to enhance working collaboratively between visitors, education providers and the Education executive.
Page updated on: 26/03/2021