Following the consultation held earlier this year on revisions to our Guidance on Health and Character, our Council approved the new guidance in July 2021.
The consultation, which took place from January to April 2021, revealed overwhelming support for the changes proposed. From the consultation we found that many respondents agreed that the new proposed guidance provided clear explanations of when applicants or registrants need to declare issues with their health or character and the kind of information they would need to provide.
We are now pleased to have recently launched our new guidance on health and character declarations with resources and materials, as well as new information for education providers.
Why we check for Health and Character
The relationship between a registrant and service is based on trust, confidence and professionalism. For this reason, we check the health and character of everyone who applies to join our Register. We need to do this to make sure that applicants will be able to practise safely and effectively within their profession.
We can take action to protect the public if a registrant's health or character raises concerns about their ability to practise safely and effectively. We know that making health and character declarations can be extremely stressful for applicants and registrants. It is our hope that the new guidance and materials can provide some clarity and reassurance.
What we want registrants and applicants to know
As a registrant, meeting the standards includes a personal responsibility to maintain your own fitness to practise and requires you to give us information about any changes to your health or character that might affect your ability to practise safely and effectively.
There are three instances in which you would need to provide health and character information to the HCPC:
when you apply to join the Register;
when you renew your registration every two years; and
at any other point where there is a change in your health or character.
You can make a self-referral about changes in your health and character at any time, without having to wait for your usual renewal period. (link) If you take a career break due to managing a health condition or are likely to be out of practice for longer than two years, you will need to inform the HCPC.
Before making a declaration, we recommend carefully reading the forms to understand what you need to submit. We would also advise anyone making a declaration to speak to their professional body, trade union or employer or otherwise to seek independent legal advice.
We expect registrants to monitor their health and ensure they maintain their fitness to practise
When we talk about 'health', we mean any health conditions which may affect either an applicant or a registrant's fitness to practise; that is, their ability to practise safely and effectively.
Standard 6.3 of your Standards of conduct, performance, and ethics says:
'You must make changes to how you practise, or stop practising, if your physical or mental health may affect your performance or judgement, or put others at risk for any other reason.'
Registrants are advised to tell us about a health condition if it affects their ability to practise safely and effectively.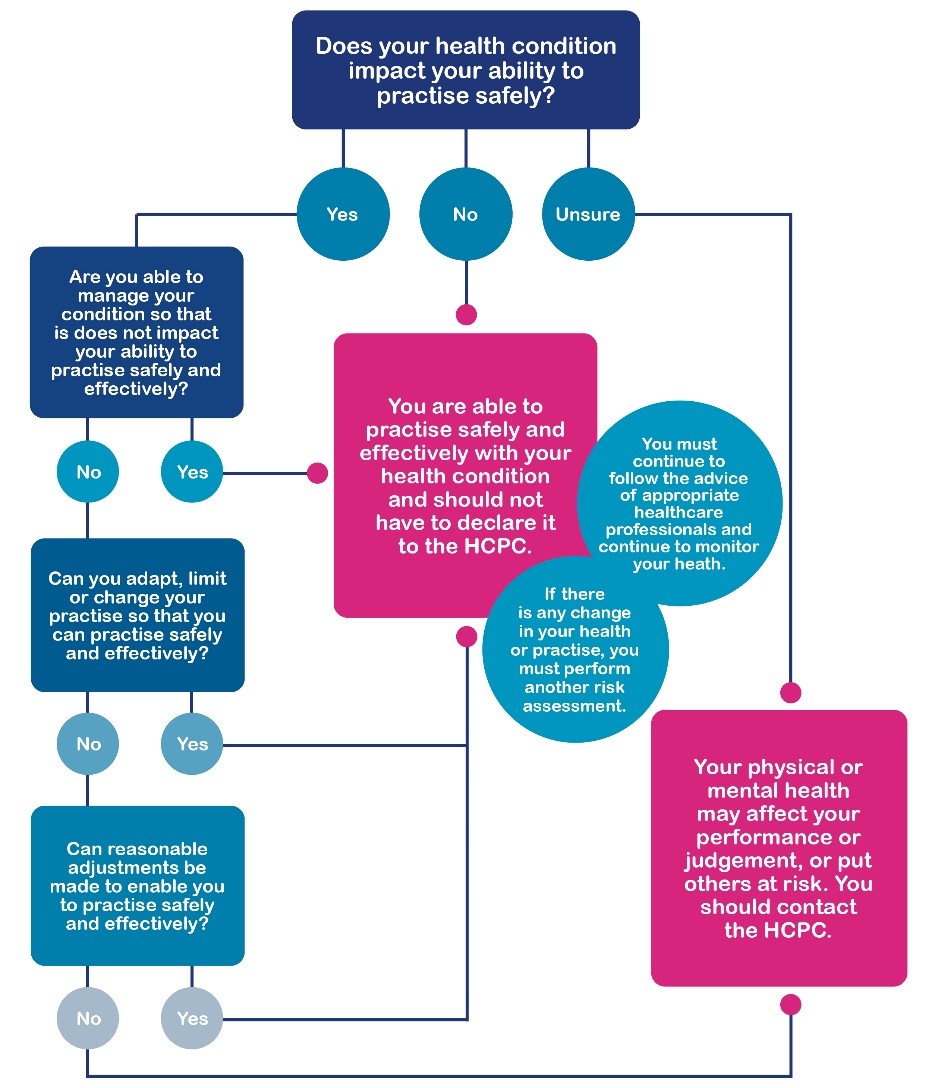 Our new guidance pages offer the following resources:
We have also provided cases studies that help with understanding how you might assess risk, manage your fitness to practise and ensure you continue to meet your HCPC standards. These case studies are illustrative: they should guide, rather than direct, the approach you should take. Covering subjects such as mental health, injury, degenerative illness and convictions.
What we want education providers to know
As education providers, you need to know how to advise students and make decisions about how issues of student misconduct or changes in their health will be dealt with while they are studying
We expect education providers to have their own policies in place for dealing with health and character issues of their students and to follow the law in their own country. Our new guidance materials set out
We would also recommend that education providers familiarise themselves with all other relevant guidance, including our guidance on Health, Disability and Becoming a Health and Care Professional, Guidance on Conduct and Ethics for Students, and our full Guidance on Health and Character aimed at applicants and registrants and student misconduct.
Tudalen wedi'i diweddaru ymlaen: 15/09/2021