Gillian Reeley is a HCPC registered occupational therapist working for Aberdeen Royal Infirmary, NHS Grampian.
COVID-19 has presented several changes for many of our registrants including having to adapt to different settings or adjust to new measures such as PPE. You can read more about how to apply our standards during this time, and in particular helpful information about scope of practice, managing risk: infection prevention and control and balancing service user needs during a pandemic.
Gillian shares her story.
I sat down numerous times to write this but kept feeling like it wasn't the right time depending on how the day at work had been and I felt it important that it was a good balance of reality and what we have learnt through it all. The phrase that immediately came to mind is a 'rollercoaster of emotions'. Bearing in mind what this phrase truly means, there have been so many ups and downs and changes in direction. To name just a few... fear, anxiety, anticipation, buzz, motivation, guilt, frustration, joy and overwhelming feeling of pride and that is just in work! We are all human and have friends, family and the world outside the NHS to contend with so it has felt really crazy at times.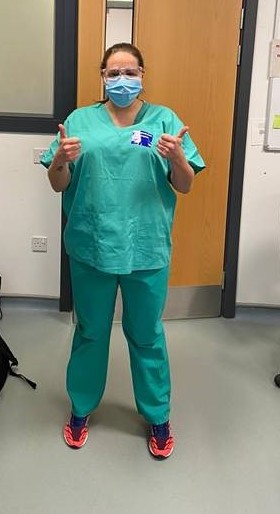 The reality of having to adapt during a time of crisis

I work within the acute hospital in Aberdeen. My caseload prior to the pandemic was made up of major trauma and critical care patients. As a team of occupational therapists in acute we adapted the way we work and it felt like things initially were changing daily. This was just the nature of the beast but it did not help feelings of anxiety. We were continuing to work as occupational therapists but were also involved in conversations indicating that depending on how bad the situation got we could potentially be pulled to work on wards to support nursing staff or to assist in proning teams for critically unwell patients.
We were involved in helping to train redeployed staff from mental health and community settings to learn manual handling in case they were called in to support within the acute hospital. There was uncertainty everywhere and everyone's personal experience was extremely unique with lots of fluctuating anxiety.
I have been lucky to work as an occupational therapist throughout the pandemic so far while working closely with all members of the multi-discplinary team to try to help with routines on the ward and ensuring optimal patient care during these times.
As a team of occupational therapists we were split into the red and green teams with the red team working on the COVID-19 wards. Ultimately this meant having to not work with the patient group we were used to and for them to be seen by other occupational therapists within the hospital, while we worked on pulling together and focusing on the increasing demand on our hospital wards. We decided to pair up to cover allocated wards with therapists we had not closely worked with before. We also had to change our working days so half of us worked Tuesday to Saturday and the other half Sunday to Thursday to provide cover over seven days - this in itself was deceivingly draining both psychologically (when you have that Friday feeling but it isn't Friday?!) and physically/mentally because it meant we were shorter staffed four days of the week.
We really had to have full confidence in our role and the skills we have as occupational therapists and apply these to our new large caseload which consisted of very apprehensive patients in single rooms with staff coming in and out wearing masks and visors! We were covering wards we had previously not worked on which was daunting initially but was actually one of the most positive parts. We quickly formed good working relationships with the nursing and medical staff on those wards and supported each other through it all. We frequently received lots of positive feedback regarding the useful role that we as occupational therapists had in assessing patients to increase independence, coping with having coronavirus and proactively facilitating safe discharges.
I stayed late in work one night to be there to clap one of my most severely impacted COVID ICU patients out of the ward on his way to rehabilitation and then the staff clapped me off the ward too which was just lovely and not something that happens everyday!
We frequently received lots of positive feedback regarding the useful role that we as occupational therapists had in assessing patients to increase independence, coping with having coronavirus and proactively facilitating safe discharges.
The toll of coronavirus on patients and us
Coronavirus itself really was taking its toll on patients of all ages, most of whom would normally be fit and well living very full lives, participating daily in meaningful activities like looking after grandchildren or playing a round of golf at any given opportunity. They presented as having good physical strength but poor activity tolerance and endurance making completing even the simplest of tasks feel impossible like walking a few metres to use the toilet. On top of this one of the symptoms of having the virus that became increasingly apparent was the loss of taste and smell. Eating became a chore and no longer something to enjoy. Many were reluctant to eat which results in energy levels being even more depleted. Patients were not sleeping well due to being in hospital, being short of breath or persistently coughing. This vicious cycle was relentless for them all but it was vital that to survive the virus they tried to eat and participate in any activity they could. Fatigue management and energy conservation advice was paramount at this time.
It truly felt like the role of occupational therapy was fundamental in helping these patients overcome the challenges they were facing, managing their symptoms. It was like nothing they or we had experienced before and we really tried to highlight to each of these individuals any hint of progress every day.
The next big change was the extensive use of PPE. On arrival into work we would put our normal uniforms on but once on the wards we would need to change into scrubs and change these throughout the day between wards and departments. In one day from waking up in the morning to going to sleep at night I counted that I changed my clothes 12 times! Remembering to put on an apron, gloves, mask and glasses before going into patients rooms and remembering the right order to put all this on and take it all off has become part of daily life now to protect ourselves and our patients. It really makes you realise how important facial expression is in communication and building a good rapport with patients. People who are hard of hearing struggle without being able to see lips moving and being able to comfort a patient or engage them using humour is really hard without them being able to see your smile.
I only had to go on to our COVID Intensive Care Unit (ICU) a handful of times but the PPE worn here was different. It consists of full gowns with sleeves, a different mask and full face visor. The first time I had to go on I got myself all worked up beforehand but afterwards relieved I had got the first time out of the way and felt more prepared for the next time. But with that relief came some tears because of the anxiety of it all and seeing the patients on the ward so critically unwell and extremely deconditioned. The ICU team is incredible and going to ICU was a real eye opening experience of how real and scary this all was and how it would be life changing for many of these patients if they survived.

I was able to work with patients once they stepped out of ICU, many having been on the unit for 10-35 days. One had even slept through the whole of lock down and didn't know what impact this was all having on the world. I had to tell him he wouldn't be getting a haircut for a very long time! We were involved at the very early stages with these patients who had lots of attachments including tracheostomies, feeding tubes and catheters. They were often very drowsy and passive, unable to communicate or follow instructions. We started using full body hoists to get them up out of bed for the first time in weeks into specialist seating to allow them to remain out of bed for short periods of time and to build strength. We worked with them to progress to mobilising independently, regaining independence in daily tasks and being able to start expressing themselves so that we could get to know them as individuals. This was so inspiring, mind-blowing and challenging all at once. What made this whole time harder for patients was that visitors were not allowed in the hospital so all staff have been involved in trying to use technology to facilitate video calls and we were definitely phoning families more frequently which they were always extremely grateful for. This made it all worthwhile.
Lessons that I have learned
Working during this time really showed me the importance of a holistic approach to patient care and how important regaining independence, life roles and self-worth is - the whole theory behind our profession. From a personal perspective, although it has been one of the most challenging times in my career so far I feel incredibly proud to work for the NHS and so privileged to have been part of the team to help rehabilitate patients during these awful and uncertain times. Occupational therapy has not only been fundamental for the recovery and rehabilitation of every single patient but it is what has got me through this crazy time also.
Now... onto the new normal.​
We are eager to highlight the vital work that you and many other health and care colleagues are doing during this unprecedented time
Cyhoeddwyd:

07/08/2020

Resources

In your words

Is-gategori:

COVID-19

Audience

Cofrestredig

Profession

Occupational therapists
Tudalen wedi'i diweddaru ymlaen: 07/08/2020