Chief Professional Officers and Advisers, and the Health and Care Professions Council (HCPC) sign a joint statement to support those on the COVID-19 Temporary Register
Dear Colleague
Thank you for playing a vital part in the national response to the COVID-19 pandemic. Over 27,000 people were part of the HCPC's temporary Registers which were established in March 2020 to boost the UK health and care workforce at a time of unprecedented demand.
We are very grateful to those who volunteered and joined the UK workforce during this time. You helped to keep essential health and care services running, cared for COVID patients and supported the rollout of the national COVID-19 testing and vaccination programme.
Returning to the main HCPC Register
The HCPC temporary Register will close on the 30 September 2022 in line with government's decision. After the 30 September 2022 you will no longer be able to practise using temporary registration. However, you can continue to support the delivery of our health and care services by considering returning to practise through re-joining HCPC's main Register of regulated health and care professionals
By returning to practise you will make a huge difference, not just to patients, but to colleagues, fellow health and care professionals and the communities that we serve.
Support for returning to practise
If you would like to remain in, or return to, practice the HCPC website has everything you need to know to help you register to practise as a regulated professional. You can find out more information here.
If you are currently, or have been, employed during the pandemic, you may find that you are already able to achieve the HCPC requirements for readmission to the register. If you have not yet accrued the necessary number of practise hours, you may find it beneficial to have a discussion with your current employer.
Your professional membership body, royal college or trade union may also be able to provide you with support in relation to returning to practise.
Regional support in the UK
Thank you once again for your service.
Yours sincerely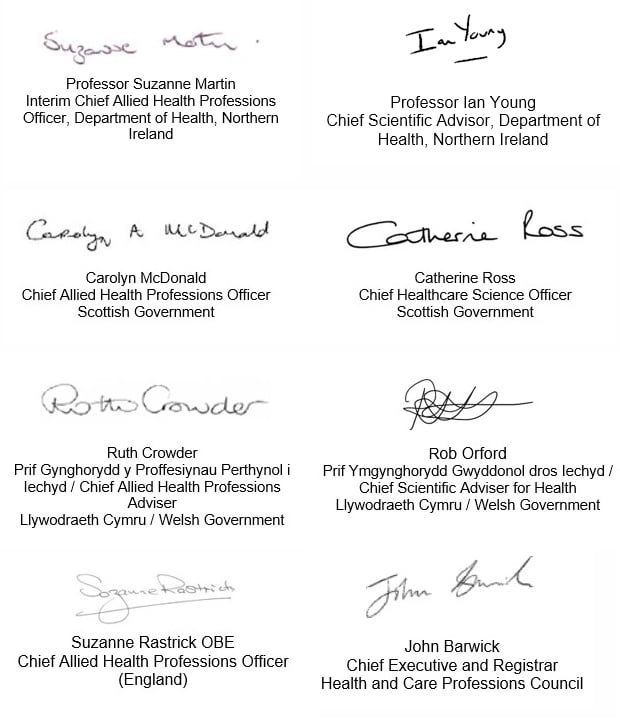 Tudalen wedi'i diweddaru ymlaen: 22/08/2022