How we assess changes to programmes
You should inform us of changes that may impact on the way your programme meets our standards.
The two stages of the process
The major change process is divided into two stages.
Major change and the revised standards of education and training
From September 2018 we expect that all pre-registration programmes will meet the revised standards of education and training (SETs), following a year of planning. Therefore, we will consider all major changes to existing pre-registration programmes against the standards because programmes will have implemented them by this point.

You do not need to notify us of how you meet the revised SETs through the major change process. Rather, we will assess whether all pre-registration programmes meet them through annual monitoring in 2018–19 or 2019–20.
For pre-registration programmes, we also no longer need to make a judgement about changes to the person with overall professional responsibility for the programme. However, you should inform us of this change, so we can update your contact information. The revised standards require that the education provider will have an effective process to ensure that this individual is appropriate for the role. We will assess the effectiveness of this process through annual monitoring.
Further information about the revised SETs can be found here.
Flowchart of the process
Under our model of open-ended approval, you are able to make changes to your programme at any time. We do not need to approve changes for you to make them, but we could decide that our standards are not met by your programme following our review. In these cases, we will require your programme to run as it was last approved by us.
Normally we are able to make a final decision that the programme continues to meet our standards, or that a visit is required, within three months of receiving the change notification form.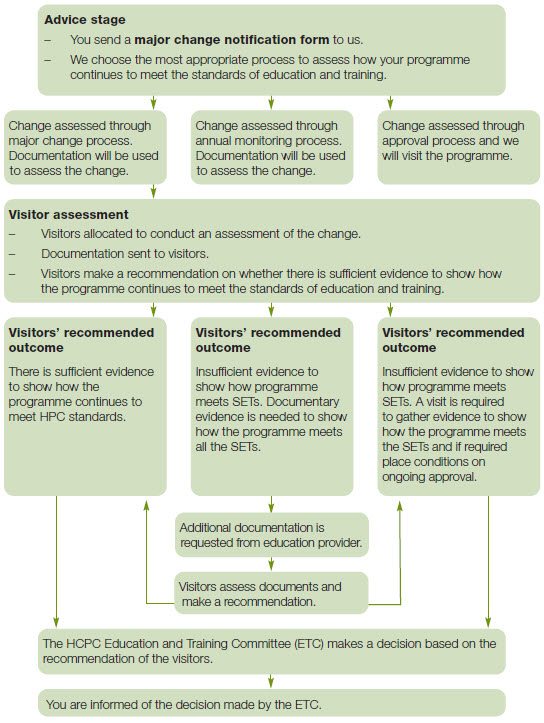 Page updated on: 12/06/2018